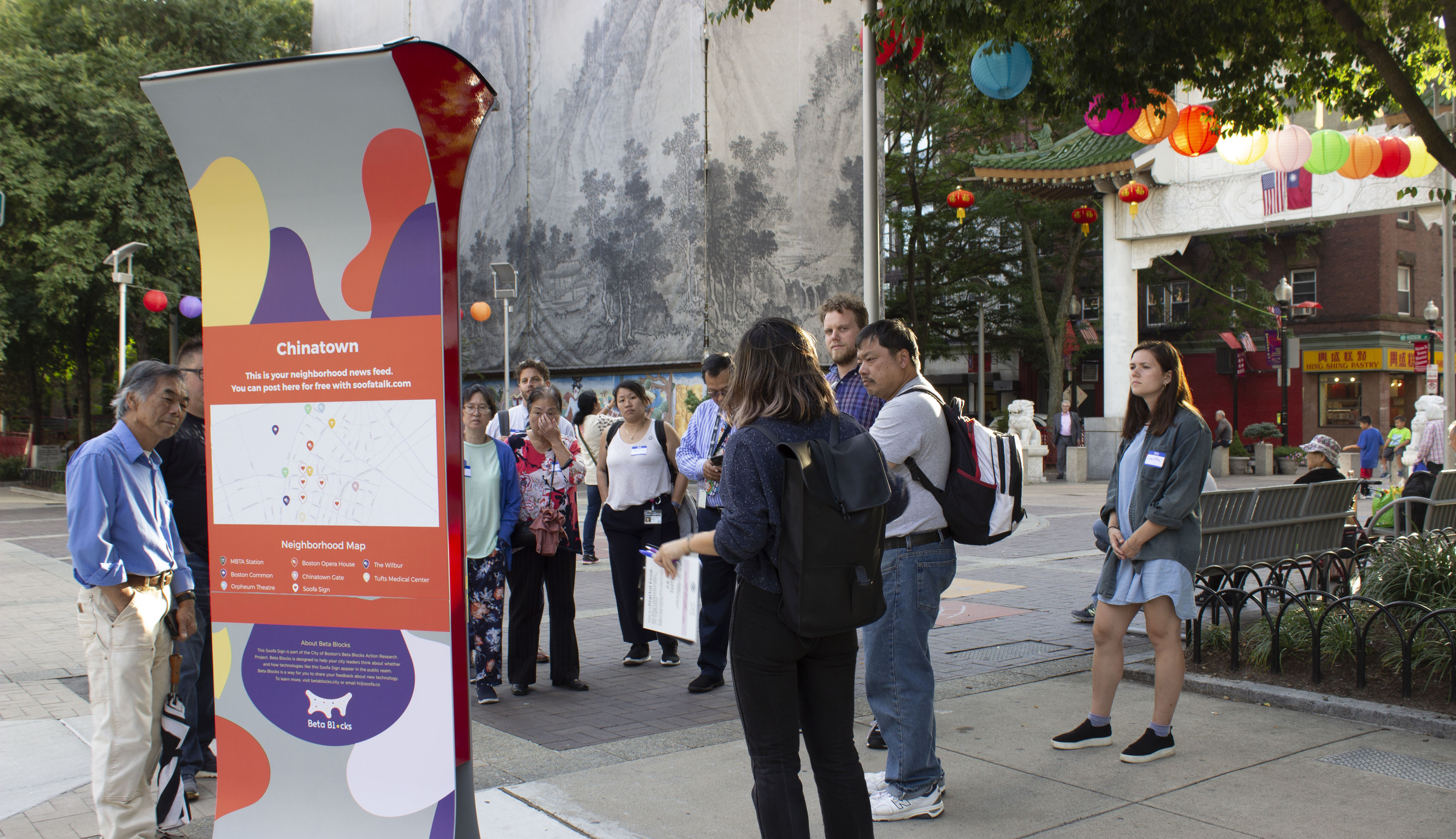 Walking tour to discuss technologies in the Chinatown Exploration Zone (photo by Emily Baeza).



Beta Blocks

2019

Installation at Boston City Hall and neighborhood-level engagements including the "Tech Explorers" teen data storytelling program, imaginary "exploration zones," advisory groups, walking tours

Chinatown, Lower Allston, Codman Square, Boston, MA

Selected Organization Partners: Castle Square Tenants Organization (Media Makers Program), Mayor's Office of New Urban Mechanics, City of Boston; Engagement Lab at Emerson College; Supernormal; Asian Community Development Corporation (ACDC); Soofa

Role: Community engagement design lead; curriculum designer, graphic designer, exhibition designer

Links

︎

Project website

︎

Final report

︎

Tech Explorer booklet

Beta Blocks was part of Boston's response to the "smart city," which recognized that urban intelligence is rooted in meaningful relationships between communities, their environments, their histories, and the companies, researchers, designers, and artists who might be able to offer a hand. Centering ideas of play, walking, and caring for public spaces, Beta Blocks installed short-term sensor technologies in three "Exploration Zones" with temporarily relaxed permitting in Chinatown, Codman Square, and Lower Allston.

In Chinatown, we brought community members (residents of varying ages and relationships with the neighborhood, organizers, business association leaders) together with tech company representatives and City employees. I led the design and facilitation of walking conversations around what data the communities already had or needed, as well as educational workshops around data ethics and ownership and the opportunities and risks of each sensor technology.

With teens, we created a three-week data storytelling program called the Tech Explorers, where we focused on collecting data about their neighborhoods to tell stories about what technologies could do.
A page from the "Tech Explorers" youth program booklet. The Tech Explorers program was a three-week curriculum to teach young people about data storytelling in their neighborhoods and data ethics. I designed the curriculum and facilitated this program at the Castle Square Tenants Organization summer program, Media Makers (visual design by Courtney Lord).
We shared our project summary and findings in an exhibition at Boston City Hall.
At the conclusion of the Beta Blocks pilot, I led the design and installation of an exhibition sharing our findings in Boston's City Hall. The exhibition was designed to be a welcoming space for City employees to relax, interact with their work environment in perhaps new ways (laying down), and reflect on play and care within government projects. (The inflatable structure, rugs, and grey seats were designed by Supernormal.)