2018 — 19



Covr (Collaborative Virtual Reality)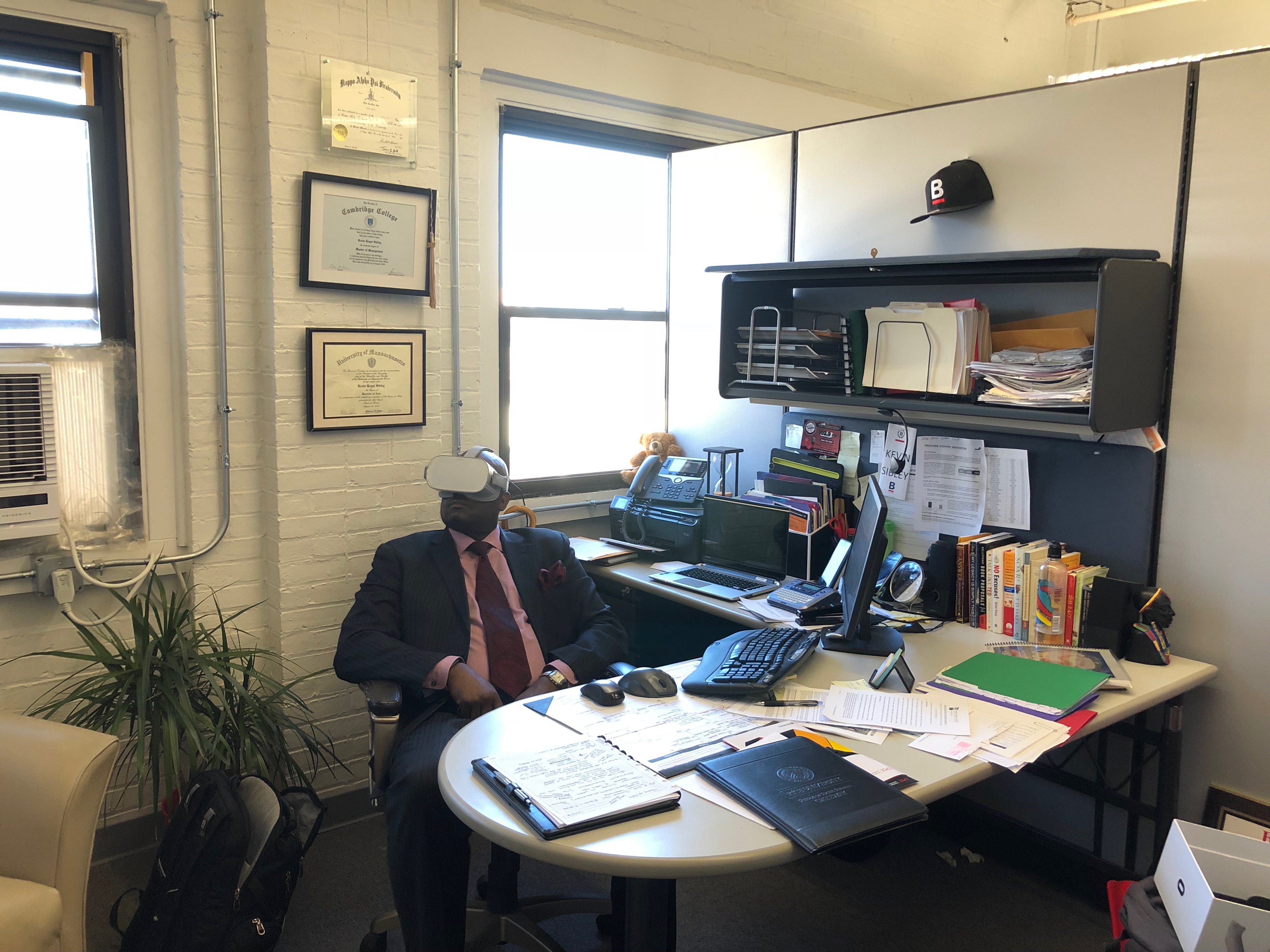 Stereoscopic 3D-360° video, approx. 5 min each.

Photo of Kevin Sibley, former Director of the City of Boston's Mayor's Office of Returning Citizens, watching a video.


This project is being continued and sustained as Recovr by the incredible entrepreneur, actor, and Certified Peer Specialist (CPS), George Halfkenny.



---


Over a year, I directed and produced Covr (Collaborative Virtual Reality), a reentry program for womxn that centered peer-supported conversations and immersive media-based storytelling.

VR design and development almost always leads with considerations about the technology, as social impact projects capitalizing on emerging media tend to do. Instead we focused on the realism of the collective story we were trying to tell about reentry. We emphasized a participatory approach to producing virtual reality, recognizing the many potentials to do harm in representing an immersive 'reality' for incarcerated folks. For more of our reflections on ethics in VR production processes, please see this paper.

Along with a small village of supporters and mentors (see Credits), I worked with six women who were then incarcerated in workshops to imagine, write, and visualize three first-person narratives for 360 video. Between workshops, I brought these narratives to reentry and recovery mentors around Boston to build on ideas and add details. We prioritized working with on-screen and voice actors who have or were coached by someone with lived experiences of incarceration.



---


Each narrative tells a story about a challenging situation women sometimes find themselves in after leaving prison —

1) Just released, you are picked up by your best friend, who offers to buy you a drink even though you are sober,


Video still, with actor and collaborator Jennie Dul.



2) You are pumping yourself up for a job but are asked about your record during the interview,


Video still, with actor and collaborator Mike MacGillivray.



3) You are already running late and are trying to adjust to public transit system updates during rush hour (after a Red Sox game).


Video still, with unknown passerby.



We left the resolution open-ended in each story, prompting the viewer to take off the VR headset and then discuss the story in a supportive group of peers.

This post-VR conversation circle is criticial for helping viewers to reflect on and relate to both the immersive stories and each other's own experiences of reentry. Given the punitive nature of carceral facilities—even places that invest in rehabilitation—the collaborative spirit attempted in these conversation circles felt almost as rare as the VR technology in the prison we worked.



---


I'm incredibly grateful to all of my collaborators, but I am especially thankful of and awed by the folks I met at and outside of South Middlesex Correctional Center, who knew that we are all recovering from something. Despite their essential creative vision and labor in this production, I'm not able to name my then-incarcerated collaborators here legally — one of many power dynamics to navigate when working with/in carceral institutions.

Credits

Workshop Members
Writer / Storyboarder
Writer / Storyboarder
Writer / Storyboarder
Writer / Storyboarder
Writer / Storyboarder
Writer / Storyboarder

Workshop Facilitators
Lauren Stott,
Sofie Hodara,
Kathy Trogolo

Actors
Jennie Dul,
Jenny Blais,
Moe Doyle,
Mike MacGillivray,
Kathy Trogolo

VR Cinematographer + Editor
Barry Pousman

VR Production Assistant
Eric Hershelman

Location
Jon Sanchez

Advisors + Mentors
Lynn Lizotte,
George Halfkenny,
Eric Gordon,
Kevin Sibley,
Carole Calderon,
Rashin Fahandej,
Abigail Forrester,
Claire Kilawee-Corsini,
and many more incredible people.

Organization Partners
MA Dept. of Correction
City of Boston, Mayor's Office of Returning Citizens

With production supported by
Microsoft New England

Resources
↗ Research about our process
↗ Research about our findings & reflections